October 2018 –
Staffvetting.com retain their NSi Gold Certificate
We are delighted to announce that we have successfully passed NSi Audit again with NSi Gold Certificate approved.
The National Security Inspectorate (NSi) is recognised as the leading certification body for the security and fire protection sectors in the UK and we are very proud to hold it's Gold Certificate. Another great effort by the Vetting team – keeping quality at the heart of everything we do.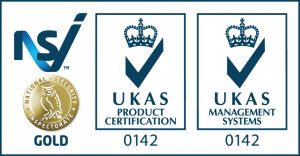 September 2018 –
Staffvetting.com sponsor Whitley Bay Air Cadets
Staffvetting.com, the UK's leading provider of quality staff vetting services to sponsor local Air Cadets Squadron Owned Vehicle.
The £1000 sponsorship will assist in helping towards the maintenance of a vehicle – which will be used by 1156 Sqn – the local unit of Air Trading Corps which covers the area of North Tyneside in and around Whitley Bay. The Air Training Corps is the name of the RAF Air Cadet organisation and it provides numerous opportunities to young people between the ages of 12 and 20 and the normal operating numbers at the unit are between 20 and 30 cadets. Steve Kirtley, Former Officer Commanding at the Squadron said, 'We are delighted Staffvetting.com have assisted in helping towards the cost of our vehicle. This vehicle is of invaluable use and allows us to take the young cadets to various activities and transport them on visits that previously wasn't possible'.
The young cadets are given the opportunity to partake in many different activities and by attending they earn qualifications which are useful not only in military circumstances but also in civil life. As such the Air Training Corps is a registered charity which need funding locally, this funding is vital when not all young people come from a background where money is readily available to pay for these opportunities.
Managing Director, Stephen Brown at Staffvetting.com fully understands the need for this funding adding, 'Our 'First Steps' policy at Staffvetting.com which is part of our Corporate Social Responsibility is instrumental in having a positive impact in our local community and helping both children and adults realise their dream and therefore making a positive difference. We are serious about empowering young people to work hard and to be the best they can. We are delighted to be able to assist with sponsorship towards the cost of their vehicle and look forward to hearing about the cadets realising their dreams'.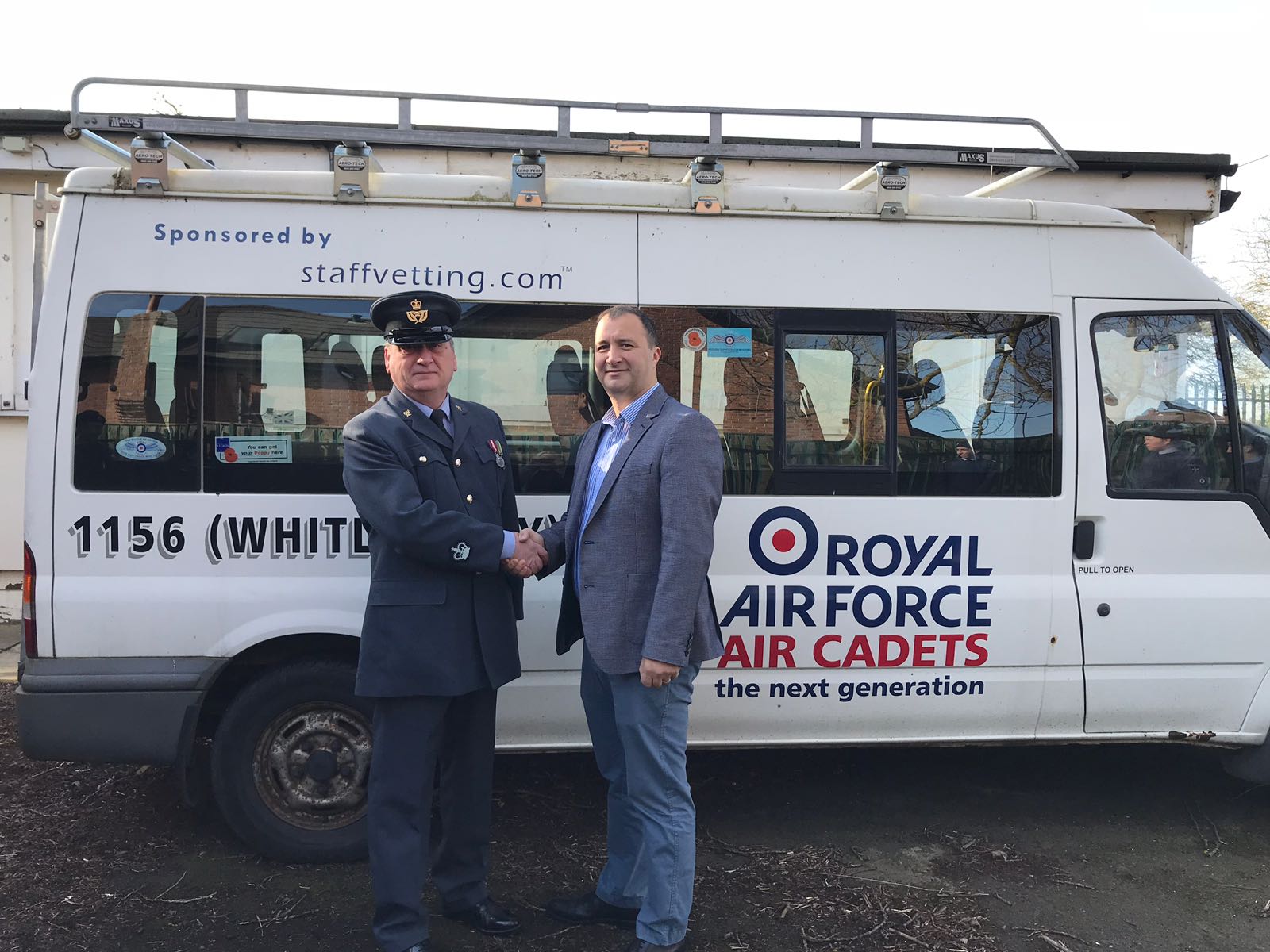 Stephen Brown, Managing Director at Staffvetting.com and Steve Kirtley, Former Officer Commanding at 1156 Squadron, Whitley Bay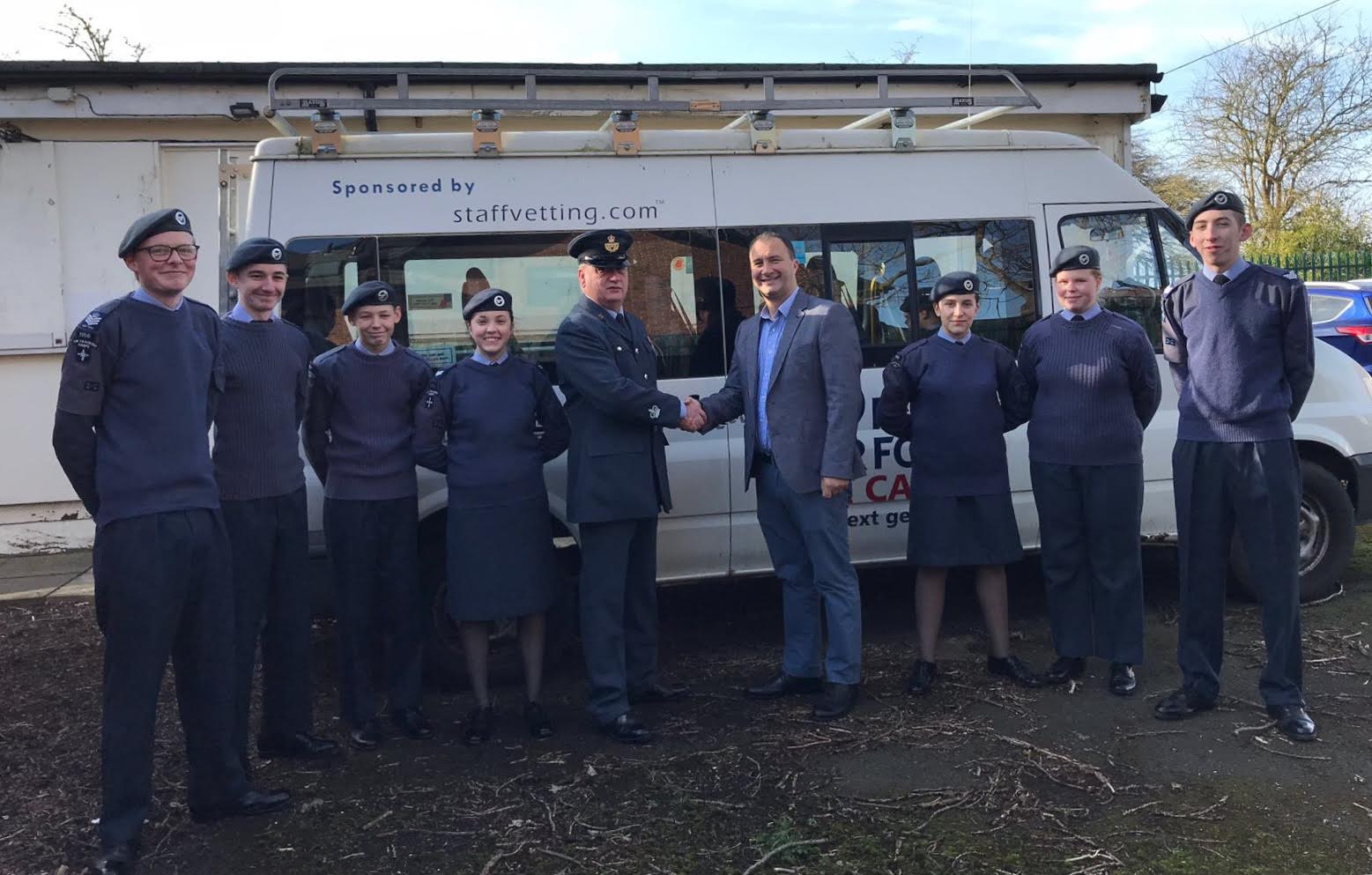 Stephen Brown, Managing Director at Staffvetting.com and Steve Kirtley, Former Officer Commanding with representatives of ATC 1156 squadron
March 2018 –
M10 Missions Charity receive funding from Staffvetting.com
Staffvetting.com are delighted to help with providing funding to M10 Missions. This local organisation is about transforming the lives of young people aged 16-18 by being a lead provider of investment, leadership and mission experience. Practically speaking, they train young people in leadership and life skills development and then follow that on by taking them on a trip to Mexico to build houses for families living in extreme poverty, serving in orphanages and befriending teenagers in rehab centres.
Stephen Reily, CEO at M10 Missions said, 'M10 Missions is about transforming the lives of young people whilst extending a service of love to the poor in Mexico. We were delighted to receive this funding as it enables us to make a big difference to the lives of the people we volunteer to help.'
This worthwhile Mission provides young people with a unique service who want direction and purpose when it comes to reaching their goals in life and this relates to Managing Director, Stephen Brown, 'At Staffvetting.com, we strive to support and encourage young people to realise their dreams. This is a very exciting opportunity and we look forward to keeping up to date with their progress.'